CMS streamlined the data submission process under the Quality Payment Program (QPP). Now there is one system for data submission. Starting on January 2, 2018 you can go to QPP web-portal (https://qpp.cms.gov/) and log into the system using your Enterprise Identity Management (EIDM) account and appropriate user role associated with your organization.
As March 31, 2018 is a deadline to submit data, we decided to briefly guide you over EIDM registration. This guide is for:
Users who have not previously registered in the CMS Enterprise Portal/EIDM. EIDM is also used in support of other CMS programs, such as the Physician Quality Reporting System (PQRS). OR
CMS Enterprise Portal users who have not previously accessed the Open Payments System. Participation in the Open Payments system requires users to be registered in both EIDM and the Open Payments system. This two-step verification process is to prevent others from using a user's identity fraudulently.
All customers will follow this initial step for creating a User ID in EIDM. However, the Office Approver must complete all registration steps to create the organization first before the Office Back-Up Approver or any End User can be registered.
Step 1: EIDM New User Registration (skip to Step 2 if you already have an EIDM User ID)
Click New User Registration button.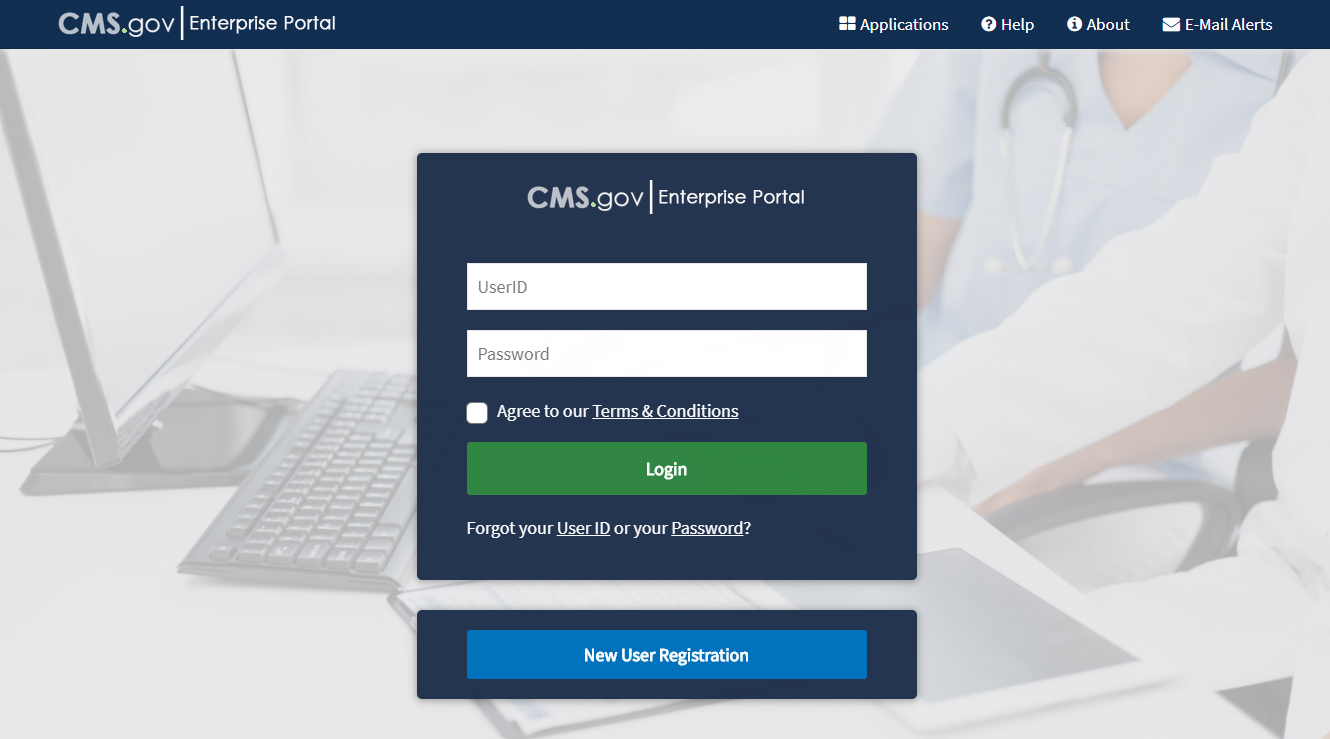 Select your reporting system from the Choose Your Application dropdown.
Read the Terms and Conditions and mark I agree to the terms and conditions checkbox. The terms and conditions must be accepted to complete the EIDM registration. Click Next.
Enter requested personal information on the Register Your Information page. Once completed click Next button.
On the Create User ID, Password & Security screen, complete the User ID, password, and security questions and answers of your choice. Once completed click Next button.
Note! Despite you will see notifications explaining number any type of characters you can use, do not use @ symbol for user ID field.
The Registration Summary page will display. Review the information and make any changes ad needed. Click Submit User.
The Confirmation page will display. You will receive an email confirming your registration that will contain your User ID. Keep this email for your records.
Step 2: Request Access to the Open Payments System
Go to the CMS Enterprise Portal at https://portal.cms.gov and enter the CMS User ID and Password you created in Step 1. Read the Terms and Conditions of the CMS Enterprise Portal page, mark Agree to our Terms and Conditions checkbox and click Login button.
Select Request/Add Apps item on the My Portal page.
Search the appropriate program on My Access. Hereafter we will show screenshots based on Physician Quality and Value Programs. Hit Request Access button for the selected program.
Select a role to request access on the Request New Application Access from options: CMS/Help Desk User, Provider Approver, PV Provider, PQRS Provider. Once all data is completed hit Next.
On the Identity Verification page click Next button. You will be taken to Protecting your privacy page. Read the info, mark checkbox 'i agree to the terms and conditions' and click Next button.
To get access as PQRS Provider you have to pass your information Verification by answering on Private questions bundled with your Social Security Number.
Complete Reason for Request by typing your reason for requesting access. For example: "Access to report Quality Payment Program". Once completed, click Next button.
Verify all registration information is completed accurately. We suggest printing the Request New Application Access Review page for your records. If changes are needed, click Edit and make any necessary corrections. If no changes are needed, click Submit.
The Request New Application Access Acknowledgement page will display, with your tracking number. You may write this down or print and keep this in a safe place for future reference.
EIDM will lock a user account if no activity is reported in the account for 60 or more days. Users must call the Open Payments Help Desk at 1-855-326-8366 to reinstate an account after 180 days of inactivity.
Next Steps
Applicable manufacturer or applicable group purchasing organization (GPO) users should register their entity in the Open Payments system. If an entity has already been registered, users can accept a nomination for a user role (if user has received one), or a user can nominate themselves for a user role and then get the nomination approved by an officer.
For physicians (including principal investigators) or teaching hospitals, the next step is to register yourself in the Open Payments system by using same ID and Password.
References:
https://www.cms.gov
http://go.cms.gov/2cCV17l